For professionals and home shops:


• Increase Profits
• Decrease Design Time
• Decrease Waste
• Panel Optimization
• DXF Files for CNC
• 3D Model Viewer
• Very Small Learning Curve
• Free Updates
• Free Trial that lets you use the program 10 times
A sample of the feedback I've received:


"very quick shipment. Excellent software highly recommend !!!"- H.R., West Virginia

"AS A CABINET MAKER , I LOVE THIS PROGRAM , DON'T KNOW HOW I GOT BY WITH IT !"- T. M.,
Wisconsin

"fast shipping , a real time saver for the cabinet maker"- T. B., Texas

"Hi Rob, I just wanted to say thank you, this kitchen planner makes my job a lot easier. I have done 12 jobs with it and so far every part size has been correct. Truly amazing!"- D. L. Ontario

"this is an incredible program, thank you for creating it"- J. K., South Africa

"wanted to let you know that the program is working just great and it helps get the work out faster"-
K. T., Louisiana

"A+++ Great product and service. Thumbs Up."- Thom Houser, Oregon (rest in peace Thom)

"I used to work for a large cabinet shop and we used K**w for our cabinet design. Almost every job had a cabinet that was not figured right. Hard to believe for the money it cost. About 2 months ago I left there and opened a small shop and was looking for a design program when I stumbled across yours on eBay. I thought, how could such a cheap cabinet design program be any good? Well, I decided to download the free trial and see what it could do. Needless to say, I was impressed and purchased it a couple of days later. Not sure how a one man company can get it right when a large one can't. The panel optimizer alone was worth the cost of the whole program.
You have great program here. Anyway, thanks and keep up the good work."- R. P.
California

"Rob,
I just wanted to write and thank you for a product that has truly give me time back. The last cabinet jobs I designed , drew, bid and figured materials for took me well over 16 hrs with auto cad. Yesterday I designed two kitchen cabinet jobs complete with shop drawings, materials, elevations,floor plans, master lists and a bid in just under 6 hrs. Your product paid for it self the very first time I used it.
Thanks again,
J. G, Oklahoma"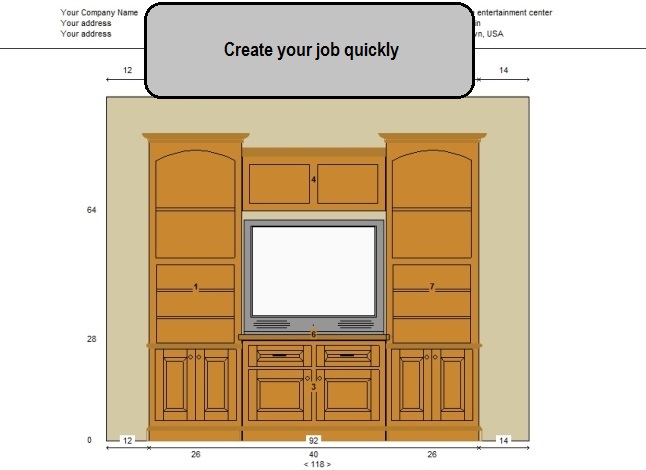 Home